This Domestic lift was one of our more difficult installations, We supplied and fitted the smallest enclosed Domestic lift on the market. It has a full area of 1m, it was installed in a domestic situation,  it runs the full height of the house in question and is used as not only a lift but as a feature of the house. We are always evolving our home lift options to give our clients the best and most cost effective options.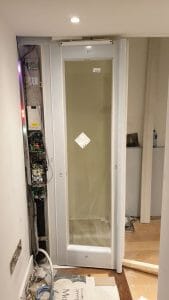 Standard features listed below.
> Flexible design
> Low space requirements
> High level of security
> Power-saving technologies
> Flexible digital control system
> Smooth adjustable movement
> Fast and intuitive installation
> Exterior design options
> Durable screw drive
> Wide range of options and and finishes.
For more information visit the main site page by clicking  here  
or click here to visit our Facebook page or click here to visit our Instagram page