Accessco Elevators Is Leading Elevator Repairs Company in Dublin
Are you searching for Elevator Repairs? Safety and reliability are two of the most essential qualities that any elevator must have to ensure tenant satisfaction. At our company, we work closely with both residential and commercial property business owners, allowing the foremost experts in the industry to conduct thorough inspections and formulate a custom action plan depending on each of our client's unique requirements. We offer a variety of service plans that all aim to address different elevator problems, preventing sudden breakdowns and costly elevator repairs in the future.
Health and Safety Requirements
Our company prioritises the safety of all elevator users. We make sure that the prerequisite health and safety items in your elevator are in good operating condition. Most of these components are hidden in plain sight, such as fall protection items. Our elevator repair experts take the time to inspect each and every component to identify signs of wear and tear or damage. Accordingly, we will recommend the repair or replacement of these parts to avoid potentially fatal accidents.
Extensive Parts Inventory
Thousands of different parts work in cohesion to get an elevator to run properly. Regardless of the elevator problem you have, you can count on us to have the exact parts you need. We take pride in having the most extensive inventory of elevator spare parts, giving us full confidence to work on any kind of elevator. Our company can provide inspection, repair, maintenance, and testing services for virtually all elevator brands. Our spare parts inventory also allows us to deliver the fastest completion times in the industry.
Modernisation Options
We are always on the lookout for new innovations in the world of elevators, and we want to bring them to you as they can make a massive impact on your elevator's mechanical and safe operation. The first step of our modernisation program involves assessing your elevator's condition. From there, we will recommend repairing, reconditioning, or replacing the mechanical components. Other modernisation options include upgrading to modern doors, intelligent control systems, custom fixtures.
Contact Us Today
With a team of veteran elevator repair technicians, you can rely on us for any kind of elevator service you need. Pair this with our massive inventory of spare parts and you can rest easy knowing that your elevator is in good hands. We also offer 24/7 emergency elevator repair services, so you always have someone to count on whenever your elevator breaks down. Feel free to reach out to us today and we will be more than happy to send over our team to identify what's wrong with your elevator and then provide you with a free cost estimate.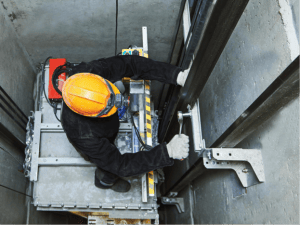 List of most frequent elevator repairs
Full machine guarding.
Full electrical overhauls.
Top of car rails.
Lift removal
Lift Flooring
If you have any further questions, you can call us on  Phone: (01) 546 1130 Email: [email protected] or click here to visit our Facebook page