We here at AccessCo can help you choose the best goods lift for your business needs. We offer lifts that are not only cost-effective but also corrosion proof, have a self-supporting structure, a compact construction, and a shaft pit depth of just 200 mm, and are machine-room-less lifts. Accessible spaces underneath the shaft are also possible.
With Goods Lifts becoming increasingly popular, we now have an extensive range of products that are suitable for lifting heavy loads between different floors. Transporting heavy objects has never been easier.
Just as we did with our Platform Lift Price Guide and our Home lift Price Guide, we want to make this decision-making process as simple as possible. Goods Lifts have many benefits for a business and it is important you select the right one for you.
Benefits include:
Reducing mistakes and accidents, as it helps keep staff and goods safe and reduces any time wasted. 
Maximize your ROI by increasing the speed at which goods move from one place to another. 
Quick and easy product storage and retrieval.
Frees up staff for other tasks, and reduces manual labour.
Different Goods Lifts Types Available
We have five types of goods lifts available:
AccessCo Dumbwaiter
These lifts are often called Kitchen Lifts. They are essential in catering, pubs, restaurants as food lifts or used as dumbwaiters in offices or private homes. The product itself includes four 50kg and 1000kg, structure-supported models. It is usually within a load-bearing shaft. It comes with the rise and fall shutters, a car entrance protection plus a grey baked enamel ral 7038, and at times stainless, finish. Fitted with a top-notch reduction gearbox and a balanced drive system it consumes little electrical power.
The budget for the lift is between €9,000 – €12,000, depending on the specification.
Special designs are available for all clients' requirements in compliance with local and national regulations. AccessCo Dumbwaiters are super easy to install taking between 1-2 days for a two-floor lift and minimum maintenance.
GL Goods Lift
When it comes to the GL Goods Lift there are significant advantages and savings. We have a wide range of choices when it comes to putting them together to suit your business. They can be available without passenger transport at a capacity of 300kg, 500kg, and 750kg. Then they can also be available with passenger transport at a capacity of 750kg and 1000kg.
The budget of this lift varies depending on the exact requirements of the client.
Each Goods Lift can be pre-assembled before installation. The standard equipment with a GL Goods lift includes the structure, the cabin, swing doors, maintenance door, drive machine, and controller.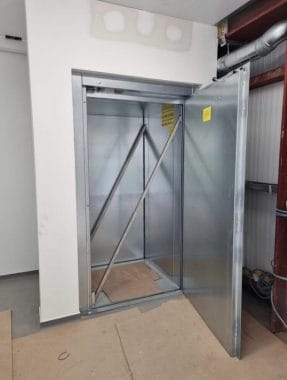 HR300D Goods Lift
These lifts are a great solution not only for transport such as stretchers, hospital beds, and goods but also as an accessibility solution. It has the potential to add great value to your business. The small footprint, low top height, and reduced lift pit of only 130 mm make the HR300D exceptionally fast and easy to install. The large platform and extra-wide doors enable it to transport bulky goods, such as large pallets.
It has a wide choice of different floor, glazing, and colour options, and the design can be adapted to blend in seamlessly with most architectural and decorative styles.
The budget for the lift is around €45,000.
It has a rated load of 1000kg and a max speed of 0.15 m/sec. It can travel a max of 13m, and the minimum headroom at the landing is 2350mm. The max number of stops it can have is 6.
It is possible to equip the HR300 with automatic door openers and large, remote call buttons, also known as elbow buttons.
GLHD Goods Lift
There are three types of the GLHD Goods Lift – UP, DL, and UPRT. Each of these lifts travels up to 16 meters. The benefit of them is a low pit of 120mm, they can be installed inside a shaft that AccessCo will supply, or the customer can build a block shaft. They are perfect for retrofitting into existing buildings. Each lift is certified for the transport of one operator on board and it allows the operator to maneuver the system safely while on board.
All three lifts optimize the loading surface for the material only and are suitable for connecting several levels with operators on the floors.
The budget for these lifts is between €30,000 – €75,000.
The UP is a one-column goods lift for goods and attendants. The capacity ratings from 300kg to 2500kgs. There are many models and technical features.
The DL is a 2 and 4-column goods lift for goods and attendants. The capacity ratings from 3000kg to 5000kg. The DL, thanks to its platform robustness is suitable to transport also a forklift truck, and the operator
The UPRT is a goods lift with a retractable roof that disappears underground. The capacity ratings from 300kg to 2000kgs. The upper surface of the roof becomes walkable and driveable flooring of the upper floor. It can be equipped with a rainwater collection perimetral channel in case of outdoor installations. And, the retractable roof solution is certified for use with an operator on board foreseeing perimetral protections at the upper floor. 
Mezz Light GL light
The Mezz Light Goods Lift is a no-passenger operated lift and is for lifting and lowering goods only. It is a basic model, and great for those with a smaller budget. It comes with its own structure and it doesn't need a pit.
The maximum capacity load for this lift is 250kg. The total number of stops it can have is 2. The lift speed is 0.2 m/sec. The lift comes in a black spray finished and the controls are held to run push-button controls (12 v), with emergency stop, adjacent to the gates at each level.
If you are interested in installing a Goods Lift, contact us right away. Our consultants will find out what is most important to you before presenting you with your options. We will also talk about your budget and timeline.